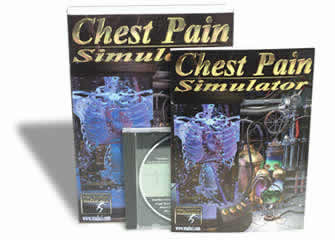 Chest Pain Simulator.................. $49
Practice the workup, diagnosis, and treatment of chest pain patients with this "chest pain ER" trainer. Chest Pain Simulator teaches a rapid, safe, and thorough approach to chest pain through tutorials, self teaching quizzes, and an online textbook. It includes history and exam, testing, differential diagnosis, and thrombolytic therapy.

Chest Pain Simulator addresses both the opportunity and the danger of chest pain cases. It simulates the workup of chest pain, including many non-cardiac causes of pain, and provides practice in determining the indications and contraindications to thrombolytics.

Lawsuits for improper management of chest pain are the biggest-dollar loss to internists and emergency physicians – keep YOUR skills sharp!
PC with 300 megahertz (MHz) or higher processor clock speed, 128 megabytes (MB) of RAM or higher, 5 MB Hard Disk Space, Super VGA (800 × 600) or higher resolution video adapter and monitor, CD-ROM or DVD drive, Keyboard, Mouse.
Windows® operating system. Compatible with Windows 7, Vista, XP.