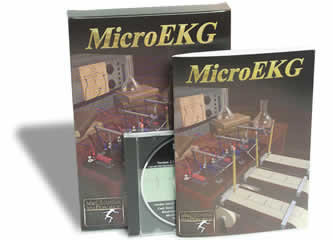 Learn 12-lead EKG interpretation on your computer! Browse through EKGs and rhythm strips. Pull up a diagnosis and see if you can recognize all the features on the EKG. Pop up a table or chart at any time while taking a lesson. With multiple levels of interactive tutorials and quizzes, Micro EKG is perfect no matter what your current level of expertise:

• Basic - cardiac anatomy, ECG theory, lead placement, wave-forms, and intervals.

• Intermediate - rhythm strip interpretation and meanings of abnormal wave forms, abnormal intervals, and arrhythmias.

• Advanced- 12-lead EKG interpretation, including QRS axis, infarct diagnosis, infarct location, and infarct age. Identify the causes of ST depression. Master the diagnosis of chamber enlargement or hypertrophy, acute and chronic pericarditis, ischemia, and more.

When you're ready, MicroEKG will present 12-lead ECGs and rhythm strips for interpretation. You type an EKG diagnosis in plain English, and the program evaluates your interpretation. MicroEKG provides hints, pointing out any features you may have overlooked. An invaluable tool for any medical professional.
PC with 300 megahertz (MHz) or higher processor clock speed, 128 megabytes (MB) of RAM or higher, 5 MB Hard Disk Space, Super VGA (800 × 600) or higher resolution video adapter and monitor, CD-ROM or DVD drive, Keyboard, Mouse.
Windows® operating system. Compatible with Windows 7, Vista, XP.