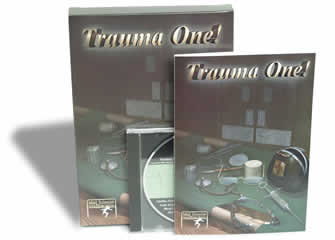 The real world is not the place to practice advanced trauma management. Instead, use this ruthless simulator to develop a rock-solid approach to trauma stabilization and workup. Trauma One! presents a trauma victim and you begin management. Undertake stabilization measures, obtain historical and physical exam information, order tests, and perform procedures on your patient. See the interventions in the "trauma room" on your computer screen.

With 36 critical patients, Trauma One! solidifies your approach to the trauma victim. It teaches therapeutic priorities, threshold for action, and completeness of workup. With a complete trauma-management manual, Trauma One! is the best way to learn solid trauma management.
PC with 300 megahertz (MHz) or higher processor clock speed, 128 megabytes (MB) of RAM or higher, 5 MB Hard Disk Space, Super VGA (800 × 600) or higher resolution video adapter and monitor, CD-ROM or DVD drive, Keyboard, Mouse.

Windows® operating system. Compatible with Windows 7, Vista, XP.